No doubt, laser tattoo removal is the most effective and painless procedure today's date. But, some people are still interested in pursuing other techniques. Such non-laser remedies are not only unproven but also carry potential dangers.
So, let's know them and their side effects, proving the laser tattoo removal Dubai as the best option.
Dermabrasion:
Dermabrasion was widely utilised before laser procedures became the benchmark for tattoo removal. This procedure involves scraping the skin with a stiff brush or other tools, which can cause discomfort, pigmentation, scarring, and even infection.
Acid Applications:
Acid tattoo removal procedures work by making a chemical reaction on the flesh. This can lead to the risk of skin tarnishing, burning, scarring, and infection when using acid procedures. Many doctors have advised patients to stop undergoing this procedure.
Tattoo Removal Creams:
Previously, removal lotions were considered by many to be a possibly helpful solution for tattoo removal. Having the capability to erase tattoo ink simply by applying a solution to the skin would surely allure many people. However, the truth is that certain treatments are entirely ineffectual. Additionally, they can cause skin irritation, blistering, open sores, irritation, as well as the risk of a severe infection.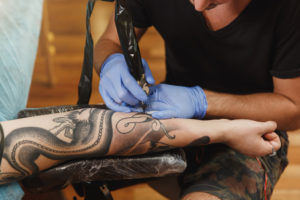 Salabrasion:
You can try salabrasion if you do not wish to use laser tattoo removal in Dubai. This involves scrubbing and eventually peeling away the skin's surface layer with sodium and water. Such a procedure necessitates several treatments, is often painful, and can lead to scarring and inflammation.
Surgical Tattoo removal treatments:
Those who opt for cryosurgery or surgical removal of old tattoos will have numerous layers of skin removed to erase the undesired pigment. Scars, mottled skin, and various medical issues are all possible side effects of postoperative tattoo removal.
Why Laser Tattoo Removal?
You may have several doubts in your mind about using the laser for tattoo removal. Luckily, there are methods for removing art that has outstayed its existence, but you must carefully choose the procedure. Before you go ahead with the procedure, you should ensure that the clinic has those many years of experience to do the needful.
Moreover, alternative options to laser tattooing may be enticing for a myriad of purposes. However, they are mostly unsuccessful and harmful to your physical wellbeing. If you have an art piece that you no longer need and are curious to learn more about the newest laser removal techniques, contact Wellbeing Clinic now for an appointment. Its laser tattoo removal in Dubai provides the best, clean, ink-free skin.
Ready for fabulous results?
Speak with one of our specialists about the best treatments for your skin. Experience premium services in aesthetics, cosmetology and slimming
Olena Ryasna
Lasers, Skin Care & Anti-Aging Specialist
Talk to an expert to know more or book an appointment