Olena Ryasna
Lasers, Skin Care & Anti-Aging Specialist
English & Russian speaking
Olena Ryasna is a Laser & Skin Care Specialist at Wellbeing Clinic in Dubai.
Olena Ryasna has over 28 years of combined expertise as a Nurse and Dermatological Lasers specialist in the field of Aesthetics, Skin Care, Lasers and Anti-Aging Medicine in Dubai and abroad (out of which 20 years experience in Dubai). Olena was one of the first nurses to assist surgeons with the first ever Surgical Laser in Ukraine in 1995.
With a degree in Nursing in 1992, followed by a diploma in Aesthetics and Laser Therapy in Dubai in year 2005, Olena has worked as a nurse with some of the best doctors in the field of PS and gy from whom she learned and perfected her skills in dermatological and gynaecological lasers, also she worked in Aesthetics field as an Anti-Aging, Skin Care and Laser expert.
Olena had continuous laser trainings over the years in Dubai from Academie Aesthetique (DHCC), Alma Lasers (USA), DEKA Lasers (Dermatology and Monalisa gy Rejuvenation Laser), Syneron Candela, Plexr Plus Plasma Pen, etc in the field of aesthetics and lasers followed by years of experience perfecting these skills in laser skin rejuvenation, Skin Pigmentation, Acne Scars, Vascular Lesions and Laser Hair reduction techniques.
Being a member of American Aesthetic Multidisciplinary Society of Anti-Ageing, Olena likes to learn and keep up-to-date with the latest procedures and protocols in the Laser and Aesthetic field worldwide.
Olena, much alike the American celebrity Nurse Jamie, is well-known in UAE for her bespoke anti-aging and laser treatments for celebrity influencers such as Zaynab El Helw (Influencer for top most famous fashion brands), Diana Ganeeva (Global Fashion Awards), Abdallah Hollandi (UAE Champion for Extreme Sports ), Peter Barron (Famous Athlete), etc
Olena uses a customized approach for her patients keeping in mind the importance of innovation in aesthetic medicine for best skin care and laser experience. Olena's expertise was showcased in many blogs and magazines like: Lifereport.net, Health Magazine, Art Prive Russian magazine, Concierge Middle East, Alaan TV etc
"My passion lies in helping you to feel good about the way you look and feel. I've been on a lifelong journey to discover and offer the most effective skin care techniques, laser treatments and products available to achieve the results you are looking for."
Wellbeing Clinic is using the latest top notch technology technology, as well as some of the best products in the market to achieve results.
Olena Ryasna is performing Pyramid Facelift for famous influencer Diana Ganeeva, best blogger of 2019 by World Fashion Festival Awards.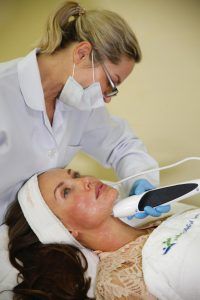 Olena Ryasna invests time in continuous training, regularly attending anti-ageing and laser technology conferences like ICAAM, Beauty Word Middle East etc every year.
Treatment for famous Emirati champion in extreme sports Abdallah (known as 'Hollandi').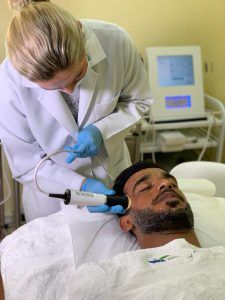 Skin Care, Anti-Aging & Lasers Treatments:
MicroDermabrasion, Facial Cleansing
Facial Chemical Peelings: Milk Peel, Yellow Peel (Cosmelan), Acne Treatment (stage 1 & 2)
Facial needless Mesotherapy for Skin Lightening, Pigmentation, Hydration & Acne
Microneedling Meso for Har Loss, Skin Lifting and Rejuvenation
Laser Hair reduction with latest laser technologies: Nd.Yag, Alexandrite, Diode (pain-free with cooling devices), Laser Skin Tightening, IPL Laser rejuvenation & Skin Lifting by Alma Lasers
Acne scars and stretch marks, Laser tattoo removal, Hollywood Peel, Face Lift with High Intensity Focused Ultrasound (Ultraformer III)
Skin Rejuvenation for sun spots, pigmentation, lightening and acne scars 
Latest tri-pollar RF technology (Radio Frequency), Oxygeneo 3-in-1 Facial, Ultrasound Infusion for dark circles.