Are you tired of seeing stretch marks on your body? Odds are, your answer is yes. Stretch Marks is a common issue that mostly affects women. However, some people are more prone to stretch marks development than others. Women, all over the world, have been dealing with stretch marks. These can cause your skin to look worn making a negative impact on your appearance. Thanks to the advancement in the field of medical sciences, you don't have to live with this issue anymore. There are a lot of treatments available for stretch marks removal; the most popular one being the laser stretch mark removal. Wellbeing Clinic provides the best procedure for stretch mark removal Dubai.
In this article, you will learn about what Laser Stretch Mark Removal is and how it can benefit you.
What is Laser Stretch Mark Removal procedure?
As the skin expands, the stretch marks start to appear. The best way of making the skin look smoother is to keep it healthier. Through laser, the skin starts producing elastin fibers and collagen that helps the skin get a smoother appearance. And even though lasers don't remove the stretch marks completely, they can reduce their appearance dramatically.
The laser treatment doesn't involve any cutting or sutures. So, if you are planning to have your stretch marks removed, you need to find out about the different laser treatment options available. The most popular option is the fractional CO2 laser that rebuilds collagen in the damaged skin and reduces the stretch marks' appearance on the body. However, the best treatment option for you will be determined by your specific needs.
What are the treatment options available at the Wellbeing Clinic?
Wellbeing Clinic is home to two latest and FDA-approved machines for treating scars and scratch marks.
Legato Microplasma using laser, ultrasound, and radiofrequency


Fractional CO2 resurfacing DOT & Radio Frequency laser


Out of the above two, the fractional CO2 laser is the more popular option. This laser is commonly used by dermatologists all over the world for treating cosmetic issues. Both of these technologies are considered to be advanced treatments for removing stretch marks and provide visible results just after the first session.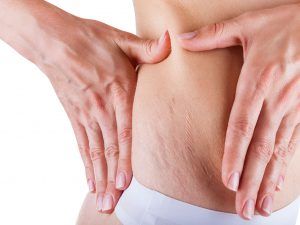 Another method of Stretch Mark Removal used at Wellbeing is Stretch Marks Reduction with PRP & MicroNeedline. As the name suggests, this treatment is made from the combination of two techniques – Platelet-Rich-Plasma (PRP) and MicroNeedling. The procedure starts with PRP being smeared on the areas with stretch marks. Then, the specialist will use a micro-pen that contains vibrating needles on the tip for creating small channels in the skin. This allows the stem cells to get absorbed deep into the skin. To obtain good results through this treatment, you will need 5 to 7 sessions.
What are the benefits of getting stretch marks removed through these procedures?
When you go for laser stretch mark removal, one of the main benefits that you enjoy is the lack of a surgical procedure. Through laser therapy, you will be able to see a significant reduction in stretch marks appearance without any incision or long downtime period. Through collagen growth stimulation inside the skin, the appearance of stretch marks starts to diminish and makes your skin look better. Here are some other benefits to this procedure:
Noticeable results

 – Once you have had a number of treatment sessions, you will be able to see noticeable results. There will be a dramatic change in your skin's appearance. Since the laser light stimulates the elastin and collagen, the stretch marks will start to get less noticeable.



Minimal downtime –

 You don't need to worry about the long downtime period as laser stretch mark removal treatment has a minimal recovery period. After the treatment is completed, you can resume your daily routine immediately.



Additional advantages –

 This procedure is suitable for all skin colours. Shallow and recent stretch marks have the most improvement but it also works for deeper stretch marks. You will be able to see results fast through this procedure. That is why it is quite popular among women who have experienced rapid weight changes or just finished a pregnancy.


If you think that laser stretch marks removal is the right procedure for you or want to know more about it, contact the specialists at the Wellbeing Clinic for an appointment.
Ready for fabulous results?
Speak with one of our specialists about the best treatments for your skin. Experience premium services in aesthetics, cosmetology and slimming
Olena Ryasna
Lasers, Skin Care & Anti-Aging Specialist
Talk to an expert to know more or book an appointment