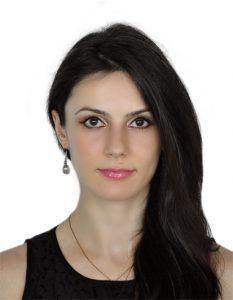 Cristina Craciun
Physical Therapist
with additional training in Orthopaedic Manual Therapy, Kinesio Taping, Mulligan Concept, Dry Needling, Clinical Neurodynamics, TMD, Muscle Activation, Reflexology, Dorn Method
Cristina Craciun graduated in 2004 with a BSc in Physiotherapy from the University of Bacau, Romania. She was one of the best students and played the leader role for the first three years. Ranking high, she was yearly awarded with scholarships. Being the second in her family to graduate from the physiotherapy department, her professors trusted her to become a reputable professional.
With a clear passion for health and rehabilitation, she built her experience in Romania, in the county hospital of Bacau and in special needs centres. She went on to practice in private clinics in Romania and the U.A.E. where she is licensed. Her focus is on musculoskeletal conditions and sports injuries.
Always eager to extend her skills and scope of practice, Cristina regularly attends workshops, courses and conferences. Passionate about health and sports, she is also licensed by the American Council on Exercise and the Dubai Sports Council as a fitness professional. Her extensive experience covers large areas in the fitness field too, being herself an active amateur athlete.
Striving to incorporate latest evidence based practice, Cristina constantly attends courses and conferences. She travelled abroad to learn from the leaders in the field. In 2013-2014 she went to the U.K. to gain additional insight in sports physiotherapy. In 2014 she spent over a month in Australia to get certified in Orthopaedic Manual Therapy from Curtin University of Western Australia.
As part of her ongoing postgraduate education, she attended a long list of workshops and conferences abroad and in the UAE, delivered by internationally acclaimed researchers and clinicians in physiotherapy, rehabilitation and fitness. Among these are Acupuncture for Sports Injuries, Fascial Therapy, Functional Biomechanics of Running, Multidisciplinary Approach to Management of Low Back Pain, PTA Global Behavior Change, Trigger Point Performance Therapy, Mulligan Manual Therapy Upper and Lower Quadrant, Follow Up and the Advanced, Myofascial Dry Needling, Kinesio Taping, McConnell Approach to Lower Extremity Disorders, Clinical Neurodynamics Upper and Lower Quarter, Management of Head and Neck Pain – the TMJ link, Muscle Activation Techniques Level 1 & 2, Shoulder Impingement and Instability Management, Management of Patellofemoral Pain, Lower Limb Tendinopathy, Optimising Motor Control of the Lumbo Pelvic Region, Rehab Trainer (Masterclass inclusive), Review and Update on Low Back Pain, Functional Biomechanics of the Lower Quarter, The Sporting Shoulder, Hamstring Muscle Group from a PT Perspective, Middle East Sport Conferences, the 8th Interdisciplinary World Congress on Low Backand Pelvic Pain, Emirates Physiotherapy Conferences, Stress Release Made Easy, PIDDDS Dynamics (Dorn Method), TRX Sports Medicine, RIP Trainer, I-Combat, etc.
Cristina Craciun is committed to do her best to help you overcome your dysfunction and pain. Here is a briefing list of the condition she treats:
Upper Crossed Syndrome
Headaches – Jaw and Neck Pain/Dysfunction
Shoulder Impingement and Instability Syndromes
Headaches – Jaw and Neck Pain/Dysfunction
Lateral/Medial Epicondylitis (Tennis and Golfer's Elbow)
Back Pain
Facet Joint Syndrome
Disc Pathologies
Sacroiliac Joint Dysfunction
Nerve Entrapment (Sciatica/ Piriformis/Cluneal etc.)
Coxa Saltans
Patellofemoral Dysfunction and Knee Pain – Runner's knee, Jumper's knee
Shin Pain
Achilles Tendinopathies
Ankle Sprains/Strains
Plantar Fasciitis
MPDS (Myofascial Pain Syndrome)
Fibromyalgia
Postural deviations (Scoliosis, Lordosis, Kyphosis)
Free Consultation with Cristina in Wellbeing Clinic on Al Wasl road, villa 1130, Umm Suqueim 2 – T: 04-348-44-06